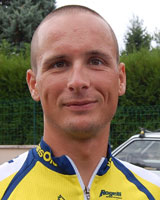 this is johnny hoogerland, dutch cyclist, one of the most valuable ones in the world. you may see some information about his activity and achievements
here
.
on sunday, during a course from le tour de france, he and juan antonio flecha (spain) were hit and thrown off the course by a car driven by a french television crewmember.
caught in full escape, hoogerland was projected directly in a barbed wire fence at a speed of 40 km/h, the fall resulting in the wounds you can see in the left.
right after the accident, he got bandaged, got on his bike and pedalled to the finish, for another 36.5 kilometres, to be on the podium and get his polka dot jersey for the best climber.
he needed 33 suture points.
here's the accident:
credits for the pictures: press on them and look at their addresses.